About Pamela Wilmoth, ASID

Interior design is a journey where the client and the designer create a space that is both beautiful to look at and practical to the client's lifestyle.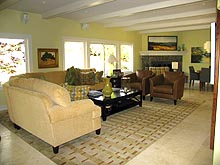 Through my 35 years of design experience I have learned that the key to a successful project is communication. I enjoy the process of getting to know a client to understand their perspective and priorities. It's really a three way conversation between the home owner, myself, and the space in question. Each has something to say about what's possible and what's best.
Through this idea and communication exchange a concept will naturally unfold. I see my job as being a guide for my clients as we walk together down this exciting path of discovery. I offer professional ideas and inspiration as well as suggest options to solve the challenging questions of design.
"Pam was a tremendous asset to our building project in Jacksonville and was invaluable to us in the remodeling of our Woodside, California home. She was involved in every decision and was especially adept at communication with the contractors and workmen. She is professional and creative but also flexible and easy to work with."

The Merrills, Woodside, California

"Pam's creativity and attention to detail was greatly appreciated in the design and construction of our new home. We continually recommend her."

The Whites, Grants Pass, Oregon

" It is a delight to work with Pam. She is able to thoughtfully interpret our ideas and style and provides creative input. She is not pushy but explains the reasoning behind the design concepts making the decisions much easier."

The Faros, Talent, Oregon

Education
Bachelor of Arts, Interior Design
Minor, Art History
California State University, San Jose
Affiliations
American Society of Interior Designers, professional member since 1973
ASID Presidential Citation, 1996
National Council for Interior Design Qualification, since 1973